The Bromeliad Society of Australia Incorporated.
Affiliated with The Bromeliad Society International(U.S.A.)
Bromeliad Society of Australia Inc., P.O.Box 340, RYDE, NSW, 2112
Authorised persons please contact News@bromeliad.org.au to update entries.

---
Meetings Program


Meeting Venue : Burwood RSL Club, Cnr.Shaftesbury Rd & Clifton Ave Burwood.
1:00PM 2nd Saturday of each month.
Sales from 12:15 before meeting.

Meetings: 2014 June-14, Jul-12, Aug-09, Sep-13, (No meeting Oct-11), Nov-08, Dec-13.
Note: Starting Jan 2014, the Artistic competition will be held every month.
Shows: 2014 Autumn Show-3/4 May, Spring Show-18/19 October(table draw Sept)
.

.
.
.

Sept 13th

Meeting
Show & Tell, Raffle, Sales, Competitions.
Members & visitors

"

Show table draw.

TABLE DRAW

?

"

talk

Dividing Broms

Ron Farrugia

Oct 11th

NO MEETING
-
-

Oct 18/19

Spring Show

Many hands make light work!
ALL members

"

10am-5pm &
10am-3pm
+ LOTS of visitors

Nov 8th

Meeting
Show & Tell, Raffle, Sales, Competitions.
Artistic Comp.
Members & visitors

"

Talk
?
?

Dec 13th

Xmas Party

Show & Tell, Raffle, Sales, Competitions. Bromel-Dip, Santa, Xmas luncheon.
Members & visitors

Jan 10th 2015

Meeting
Show & Tell, Raffle, Sales, Competitions.
Members & visitors

"

talk

Sydney Bushland

Boronia Tours, Jennifer Farrer
REMINDER - Renewal of Annual Subscriptions - Due January 1
Subscription Form - Click here.
Other Services - Click the following to jump to: Seed Bank , Library , Book Sales , Web Links , Other Societies , BSA contacts , Editors pages , Bi-Annual Show Competition Rules, Show Competition Entry Form, BSA Constitution.
To apply for, or renew membership - Subscriptions - Click here. or as .pdf Click here.
---
Past articles from this page:


(For Bromeletter Index 79-99 by Author, click this LINK
(For Bromeletter Index 79-99 by Plant, click this LINK)


09/04: A Brief History of the BSA, presented by Ken Woods.
Detective Derek 02/05: Kent's Blue, by Derek Butcher.
BR01: What is a Bromeliad ? By Bob Reilly
03/05a: Nidularium 'Don Roberts' and Aechmea 'Miraculous Find' By Peter Franklin.
03/05b: Albino Bromeliad - March meeting.
02/05: Plant of the Month winners 2004.
08/05: August 2005 Meeting, African Violets.
08/06: Ken Woods - Life Member.
09/06: Cryptanthus Ruby.
10/06: Report on 2006 Spring Show & prize winners.
10/06b: Another Albino Brom, from Aileen.
Philately: Bromeliads on Stamps.
03/07: Another Oddity from Aileen.
04/07: Pitcher Plants of the Americas.
04/07b: Vale - Gordon Ramsay.
05/07: Autumn 2007 Show Results.
08/07DIARY BSA Social Outing..
08/07 Grace Goode surprise 90th party.
01/08 Competition Rules. (Superceded, see 03/11)
06/08 Show results, Autumn 2008.
07/08 5 branched Weilbachii.
02/09 "Growing Bromeliads" - errata.
05/09 Autumn 2009 Show results.
09/09 Cliff & Joan Norden.
10/09 Spring 2009 Show results.
05/10 Autumn 2010 Show results.
10/10 Spring 2010 Show results.
03/11a A message of hope.
03/11 Competition Rules. (Updated)
04/11 Ant Plants - Part 1. (Updated)
05/11 Autumn 2011 Show results.
06/11 Ant Plants - Part 2.
08/11 Ant Plants - Part 3.
09/11 Spring 2011 Show results.
10/11 Ant Plants - Part 4.
02/12 xNeophytum Lymanii
06/12 Autumn 2012 Show results.
06/12 Spring 2012 Show results.
05/13 Autumn 2013 Show results.
06/13 Ellen Sloss.

---
Ellen Sloss.
Apology to 50th Birthday Get Together
A note written by her Son, Ray. (raysloss @ me.com)
Ellen has been a member of the Bromeliad Society of Australia for many years. She is also the second longest continuous member of the Cactus and Succulent Society of NSW. She was a member of the NSW Bromeliad Society, the Western Suburbs Cactus and Succulent Society, the Western Suburbs Bonsai Society, the Concord Garden Club and many others.
She deeply valued all the societies she was a member of and attended many Australian conventions as well as travelling to attend 18 overseas conventions. She made many life-long friends in the Bromeliad Society, contributed to articles in the Bromeletter and books as well as participating in many events.
Ellen travelled to many countries in search of bromeliads and was at one stage the largest personal importer of plants into NSW and was, we believe, the only individual guest at the opening of the Quarantine Centre at Eastern Creek. The other invitees were nursery and commercial importers.
In 1974 she was the last winner of the Sydney Morning Herald Garden Competition, Western Zone.(see image below). One SMH judge said that Ellen had more varieties of plants in her small garden than the Botanic Gardens. She won many prizes at the Royal Easter Show receiving the Bronze Medal (runner up to the Banksian Medal) for the second highest aggregate points, a major achievement for someone who didn't compete in roses and dahlias. She submitted entries in Bromeliads, Cactus and Succulents, Bonsai, Floral Art among other categories. She won the local Concord garden competition every year except the first year she entered. She was especially proud of beating Mr Cullen of Cullen Motors in the local competition because he employed a professional gardener 2-3 days a week.
Ellen lost her drive in the garden when she lost her dear husband Joe in 2000. It was Joe who persuaded her to join the many plant and garden societies which became a major part of her life. He was her keen supporter and the quiet force behind this passionate woman. They were a great team.
Ellen now lives in a Nursing Home in Concord, Redleaf Manor, surrounded by her awards and photographs of her plants and her family. Her daughter Paula has followed in her footsteps with a deep love of broms. Unfortunately Ellen is no longer able to attend functions and events because of her mental and physical infirmity however we have maintained her membership of the Bromeliad Society and the Cactus and Succulents Society because they were her true loves and she always admired the growers who shared that love.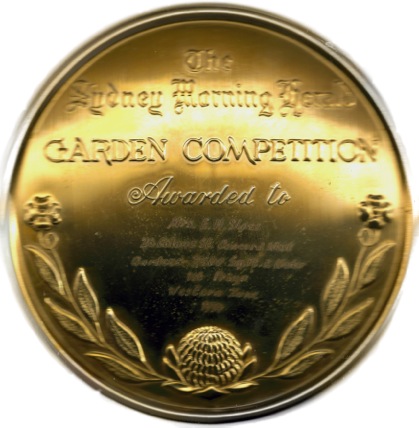 SMH Gardening award. Ellen Sloss.
---
Updated 11/08/14
---